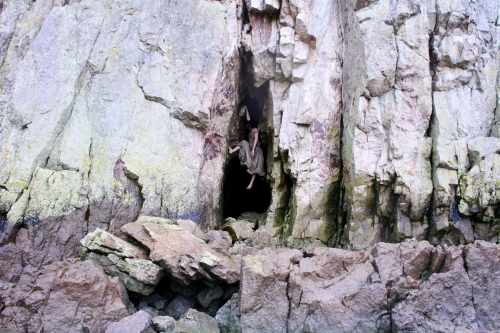 'Moments of Being': Mountain, Cave, Coast
Walking-Performance in rural landscapes. An exhibition by Louise Ann Wilson
7 – 27 November 2019

The exhibition is about how, by using alternative viewpoints and perspectives, Louise's work invites us to look at the landscape differently in order to transform the way we think about 'missing', marginal or challenging life-events. Familiar and much loved sites including mountains, caves and coast, become places where both personal and public issues can be addressed.
Showing film, photographs, objects, drawings, poems and texts 'Moments of Being': Mountain, Cave, Coast draws on the body of work Louise has created over the last decade. These works have been staged in the Lake District, Cornwall, Snowdonia, the Trough of Bowland, the Ingleborough Fells, and Morecambe Bay.The exhibition is part of The Kendal Mountain Festival 2019.
Image: Jack Scout (2010). Creators: Louise Ann Wilson and Nigel Stewart. Dancer: Natasha Fewings. Photographer: Nicola Tarr.
'Moments of Being' was part of the Kendal Mountian Festival 2019.
It was funded
Kendal Mountain Festival,
Lancaster University and supported by Lancaster Arts and the Heaton Cooper Studio.