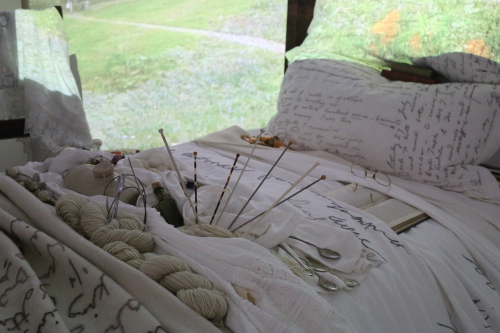 MOVE Exhibition
8 February - 22 March 2019
Peter Scott Gallery, Lancaster University
Dorothy's Room and the Women's Walks to Remember: 'With Memory I was there' booklets I have been creating are being shown as part Lancaster Arts new Move Exhibition.

Move opens at 6pm tomorrow at the Peter Scott Gallery, Lancaster University and runs from 8 February to 22 March 2019.

My work will be shown alongside that of the artists Kathy Hinde, Hannah Catherine Jones, Simone Kenyon and Jen Southern whose work also connects with travel, finding our ways and routes through places and history.

Move comments on the natural world and landscape linking to ancestry, cultural reparation and the powerful nature of memory.
Photograph: Dorothy's Room.
Photographer: Peter Scott Gallery.