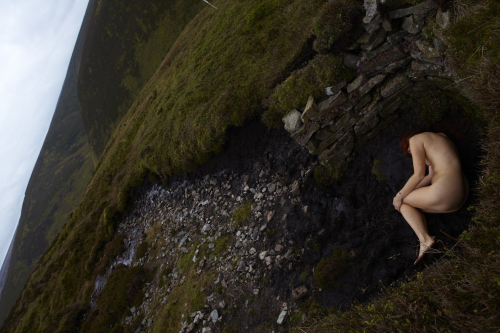 Ghost Bird Exhibition, Cumbria
18 January - 4 April 2014 NOW CLOSED
FREE
In 2012, the critically-acclaimed artist Louise Ann Wilson created a performance and art installation in the Trough of Bowland, which responded to the local environment and plight of the hen harrier in the North of England. This new exhibition reinvented for the gallery at RSPB Geltsdale in Cumbria features stunning production photographs by the internationally celebrated Manuel Vason and elements of the original art installations.
Ghost Bird was first presented in 2012 as a silent walking-performance and live-art installation specific to, and performed in, the Langden Valley in the Trough of Bowland, an upland landscape internationally important for its heather moorland, blanket bog and rare birds. Referring to the ghostly grey feathers of the male hen harrier and the increasing absence, due to persecution, of nesting pairs in the Trough of Bowland, Ghost Bird celebrated the birds' beauty whilst drawing attention to its fragile existence within the north of England. In doing so, the work became a means of reflecting on the journey taken 400 years earlier over the Bowland Fells to Lancaster Castle by the persecuted Pendle Witches.
Ghost Bird was created, directed and designed by Louise Ann Wilson with choreography by Nigel Stewart of Sap Dance, sound by Lisa Whistlecroft, and was performed by dancer Julia Griffin and a team of life-models.
Ghost Bird was produced by Louise Ann Wilson Company Ltd and co-commissioned by Green Close, as part of the Lancashire Witches 400 Programme, and Live at LICA. It was made with the support of land-owners United Utilities Estates and their tenants, the Forest of Bowland Area of Outstanding Natural Beauty, and hen harrier experts from the RSPB.
For information about the exhibition, opening times and directions are available here.