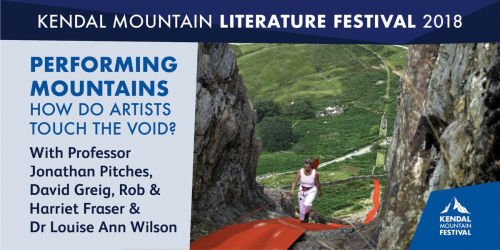 Performing Mountains: How Do Artists Touch the Void?
17 November 2018
Kendal Mountain Festival
Abbot Hall Centre, Kendal
Film and literature have always been wedded to the mountains but what about the other arts? How have theatre makers, land artists and scenographers interpreted mountains, using the impact of live performance on an audience? What does an artist see in the mountains that the rest of us don't and how do they reach out to us to share their visions?
This panel of contemporary theatre and arts practitioners, chaired by author of Performing Mountains and Leeds University Professor, Jonathan Pitches, sets out to answer those questions in discussion with internationally renowned playwright, David Greig (Touching the Void and Pyrenees) artists Rob and Harriet Fraser (Somewhere-Nowhere) and designer and theatre maker Dr Louise Ann Wilson (Fissure, Warnscale, The Gathering/Yr Helfa).
Louise's paper entitled 'Materialising The Void: A feminine sublime approach to mountain walking-performance' explores her use of mountains in her work.
Image: The Gathering by Lousie Ann Wilson
Photograph: Lizzie Coombes