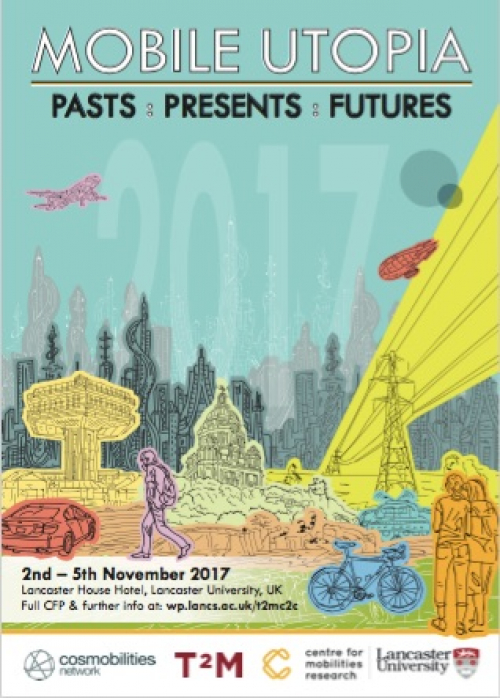 Mobile Utopia: Conference, Exhibition, Catalogue
'Making Warnscale': Exhibtion and Presentation
Lancaster University
2-5 November 2017
Exhibition: Using texts, photographs, drawings, mapping-walk maps and artefacts this exhibition shows how Warnscale mobilised 3-tiers of research that involved an in-depth study of the landscape in which it is situated, observation field work in fertility clinics, and a series of group and one-to-one mapping-walks with individuals affected by biological childlessness. The exhibition also shows how a close reading of the journal writings of Dorothy Wordsworth who walked in and wrote extensively about her experience of the landscape of the Lake District, informed Warnscale and its desire to engage the reader/walker in new, or different, ways of seeing and feeling the landscape and through that embodied, creative and immersive landscape experience transform their experiences of the underlying subject matter.
Exhibition catalogue: Mobile Utopias: Art and Experiments (2017). ISBN: 978-1-86220-3339-6.
Presentation: '
Warnscale: Emplacing, Re-imaging and Transforming 'Missing' Life-Events' by Louise Ann Wilson
Louise's paper explores how rural landscapes can become a 'site of transformation' where 'missing', or challenging, 'life-events' are emplaced, re-imaged and transformed. The paper case studies (Warnscale) (2015-ongoing) and explores how, in Warnscale, the landscape and the act of walking and dwelling becomes a transformative metaphor for the underlying subject matter and applies theories relating to therapeutic landscape and mobilities.
It articulates how Warnscale was created through three-tiers of research that mobilised the site, the science of the underlying subject (in/fertility) and, through a series of group and one-to-one mapping-walks, individuals affected by biological childlessness – thus challenging and re-imaging the normative 'utopias' around biological motherhood.
The paper, analyses how Warnscale evolved and applied a series of six scenographic principles. These principles were informed by theories and aesthetics relating to landscape, pilgrimage, Early Romanticism, and a close study of Dorothy Wordsworth's, and her contemporaries' approach to landscape. The mobile, embodied 'mode' of engaging with landscape that these women pursued enabled them to see afresh objects, people and experiences that were ordinarily overlooked – thus producing a materially specific 'utopia of the everyday' – that articulated non-mainstream 'lived' experiences and discourses on landscape, and can be mobilised as a creative strategy in contemporary socially engaged performance practice.