Lockdown in Lancaster and Morecambe: Walk, Run, Pedal, Push, Map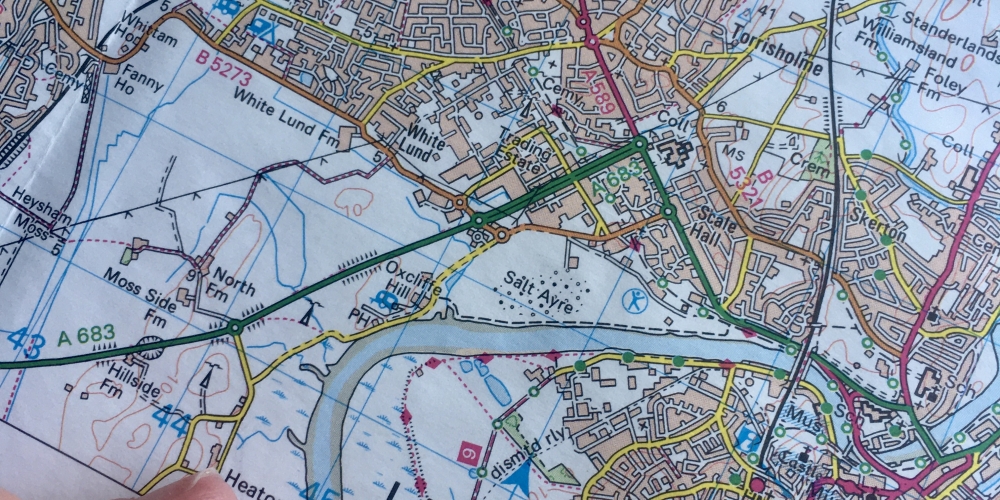 Are you discovering new places and routes to walk, run, pedal or push due to the current stay at home restrictions we are experiencing due to COVID-19? Places and routes that give you a breathing space – mentally, emotionally and physically? If so, please record them and add them to a new artwork: Lockdown in Lancaster and Morecambe: Walk, Run, Pedal, Push, Map
Since the COVID-19 Lockdown, I have been running and walking every day from home. Gradually, I have found and followed new paths that have taken me to parts of Lancaster that I didn't know were there! I am now becoming more aware of how the city connects; where tracks, streams, waterways, roads and the river meet and cross. I have found allotments, prisons and graveyards, followed narrow bluebell-lined tracks through woods and into high-up places where the view across The Bay or The Lakes open up and lorries on the motorway push past. I wave at Ingleborough Fell and glimpse Clougha and Pendle Hill in the distance.
I've gained fitness, am running more regularly and a little further than usual. The pull of fresh air, warm sun or the whip of the wind is irresistible as is the need to stretch my legs and body, and clear my mind – and have some physical, spiritual and mental breathing space.
I am not alone in these findings and revelations – lots of others have told me they are doing exactly the same as me. Whether it be on foot or bicycle, with pushchair or wheelchair we are still venturing out from home. Those who can't leave the house, move very far or easily are walking indoors, in yards, squares, gardens, streets and parks. These shorter routes are just as important.
So, can you start recording your favourite lockdown routes, and share them with me?
All of the mapped routes will be combined in to a single Lockdown in Lancaster and Morecambe: Walk, Run, Pedal, Push, Map map. This map will then become a bespoke artwork that abstracts and stitches the routes and paths into a made-at-home PPE intensive care gown.
Please note, walks can be share from all parts of Lancaster and Morecambe AND the surrounding areas.
RECORDING AND SHARING YOUR ROUTE/S
You can record and share your route/s via GPS, email or post. From hand drawn to digitally captured GPS, all maps are welcome! All of the mapped routes will be combined in to a single Lockdown in Lancaster and Morecambe map/artwork.
Please send your maps in one of the following two ways:
Digital GPS maps
can made and shared via Strava:
For 'Map my Run' and 'Run Keeper', please get in touch at the email address below.
Hand drawn and marked-up maps can be sent to: louise@louiseannwilson.com
, or request a postal address via this email address.
Here is a link to a downloadable map that you might find useful.
Many thanks for contributing your route.
Please share this activity with others.
I will be gathering routes until 31st July 2020.
So this project does not contribute to making favorite/hidden/narrow paths too busy. Routes will not be shared publically, until later in the year (and post lockdown) when the artwork/s map/s are completed.
Stay Safe - And Socially Distanced.
This project has been commisioned by Lancaster Arts at Lancaster University and forms part of their
BREATHING SPACE
Programme 2020.